The SKYGUY is John S. Gianforte, an Astronomer, Science Writer, and Adjunct Faculty member at Granite State College, in New Hampshire. By day, John is the Director, R & D in the Product Performance Group at Goss International. Goss is the largest manufacturer of automated, high-speed web-offset printing presses in the world. John works in Goss' Durham, New Hampshire facility not far from his home. While John's formal education is in electrical engineering, he has had a deep interest in astronomy, physics, chemistry and space exploration for many years. He began teaching astronomy courses in 1983 in various continuing education programs in New Hampshire, Maine, and then in Texas, where he and his family relocated to in 1987. By night John studies the night sky and takes images of various astronomical objects to share with his students, friends and colleagues.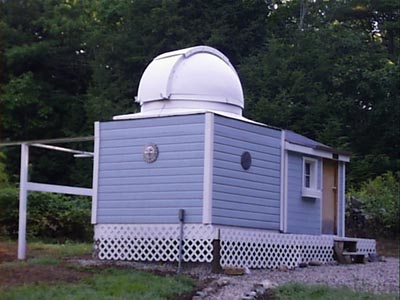 John moved back to New England from Texas in 1997 and designed and built the Blue Sky Observatory (BSO) a few hundred feet behind his home in Durham, New Hampshire. From BSO John has conducted observations and research on Cataclysmic Variable (CVs) stars and transiting extrasolar planets. Other areas John is interested in are imaging the Sun, the Moon, the planets and comets. The images that are taken at BSO are used in John's articles and in the college courses he teaches. John has written extensively for newspapers and magazines since the mid-1980s and has had articles and images published in
Astronomy
magazine,
Denton Today
magazine,
Stardate
magazine, the
Fort Worth Star-Telegram
,
Foster's Daily Democrat
,
Southlake Journal
,
Universetoday.com
, and
Spaceweather.com
. John has been teaching astronomy and astronomy-related courses at the college level since 2002. Since then he has taught more than 17 courses for Granite State College at five of GSC's regional centers throughout New Hampshire. The list of courses includes, An Introduction To Astronomy (SCI 512), Observational; Astronomy (SCI 511), The Night Sky: Astronomy and the Ancients (SCI 544), Exploring Mars SCI 544, and the Scientific Search for Extraterrestrial Life (SCI 544). If you are interested in more information about Granite State College's current Astronomy course offerings, visit their web site at:
www.granite.edu
.
In addition to John's writing, teaching and research activities, he frequently contributes to various astronomy and science outreach efforts. He is a frequent contributor and guest on New Hampshire Public Radio's
Exchange
radio program. John also contributes to and helps with New Hampshire Public Television's (NHPTV)
NH Skies
, a short piece that airs occasionally as a part of NHPTV's
NH Outlook
, a regular news program that informs New Hampshire residents of current events that affect them. John also conducts astronomy programs, observing sessions and lectures for the
Rey Center
, the
Christa Mc Aulifee Planetarium
in Concord, New Hampshire, as well as for schools and civic organizations. If you are interested in such a program for your organization, click on the email link at the bottom of the page.